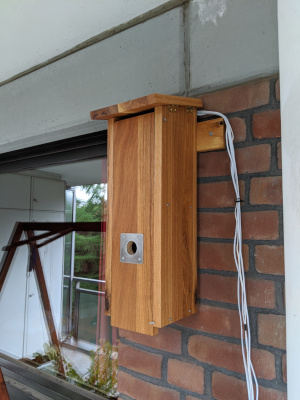 On this page, you can observe wild birds that are using the nesting box on our balcony to breed and raise their young. Over the past couple of years, filming and streaming the nesting birds has become a hobby of mine. Recently I've also built a nesting box designed specifically for the electronics involved.
The livestream is not available throughout the year, but only during breeding times. The first breed typically begins around the end of March or beginning of April. If this breed is successful, it's possible for the same family to start a second breed in the same season. As soon as the birds begin to build their nest, the stream starts and you can watch it on this page or on Twitch. Highlight recordings are available on Youtube.
Night-time footage is black-and-white due to the infrared lighting. During the day, the nesting box is slightly illuminated on the inside, so that colors can be made out. The sound is recorded by a microphone inside the box.